Here's the second installment of the Know Your Novel Linkup by Christine Smith.
The Questions
1. How's the writing going overall?
The writing has been pretty good overall. I can't believe I've already got 44k words under my belt! The story is drawing me in and the words are coming faster. I've had a few hard days to get those words written, getting hung up on the world building and character arcs but because the whole thing is outlined and going smoothly, I feel like I can take the time to figure all that stuff out.
2. What's been the most fun aspect about writing this novel so far?
Hmm . . . That's a hard one. I love everything about writing this novel! I love the characters, even the evil ones. I love the plot and the settings. I love my writing friends. I love that even though I'm writing so much a day, I still have time to hang out with my family. I love having an outline. And being able to pants some of the scenes that just had a general feeling that needed to be captured. I just love writing.
3. What do you think of your characters at this point? Who's your favorite to write about?
I think at this point, it's a toss up between Ashkii and Krillin. I love them both! Ashkii has just had the hardest time of things. He's depressed most of the time but doesn't let it stop him from defending his friends when they need him. Krillin is just so adorable! I love the way he thinks and the lessons he's learning.
4. Has your novel surprised you in any way?
There have been a few surprises, but not many. The surprises are in the little things: an action a character takes in response to someone else or smells that blend together to create the most amazing result. It's the little things 🙂
5. Have you come across any problem areas?
Yes and no. I had trouble writing one scene because my antagonist was making me so mad and scared at the same time but that's not really a bad problem to have. I had trouble writing some of Krillin's scenes because he's in a completely new setting and culture and I hadn't done as much world building there. Again, it's not a bad problem to have. I love to research and plan that stuff out. The other problem I'm running into is making sure I don't leave anyone out. I have a ton of characters who are all doing various things and a lot of the time they're together in the same scene. And like, how do you write a good scene with 20 characters interacting without out making it too easy or too hard for the plot to move forward? Seriously, comment below if you have an answer for me!
6. What's been your biggest victory with writing this novel at this point?
I think the biggest victory for me is more in the ordinary things of life. Not only am I getting the words on the page but my house is staying relatively clean while I do it and meals have been super easy to prep and make. I'm most happy that I've been able to mostly be done writing by the time the kids get home from school although the days vary in productivity.
7. If you were transported into your novel and became any one of the characters, which one do you think you'd be? Would you take any different actions than they have?
My answer is the same as last year's. Maya. She is a lot like me in various ways. I love her struggles and self-discoveries. I don't know if I would do anything different. Maybe I would have explored her powers more than she has. Maya has been scared of her powers but is learning the advantages slowly.
8. Give us the first sentence or paragraph then 2 (or 3!) more favorite snippets!
Here's the first paragraph of the prologue, keep in mind that it probably won't stay the same:
"Years of being exiled, from the land near the sea, weighed down on Dana, harder on this day than any before. She wanted to return to Trouria ever since her father dragged her away. It wasn't her fault everything and everyone was dying. She had been doing her best to heal the people, though no one but herself knew she could. Dana discovered it quite by accident."
9. Share an interesting tidbit about the writing process so far! (For example: Have you made any hilarious typos? Derailed from your outline? Killed off a character? Changed projects entirely? Anything you want to share!)
Interesting . . . I think I've already told you all the interesting parts in the above questions. There have been characters that I have spared from being killed. And I've only written one or two scenes that weren't in the original outline. Maybe I should change projects to make it more interesting (kidding!).
10. Take us on a tour of what a normal writing day for this novel looks like. Where do you write? What time of day? Alone or with others? Is a lot of coffee (or some other drink) consumed? Do you light candles? Play music? Get distracted by social media (cough, cough)? Tell all!
If you want to know about the first 7 days of Nano jump over to the post I made. Since this post is coming out at the end of week 2, I'll just answer these questions by going day by day from Day 8 to Day 14.
Day 8: 4,045 words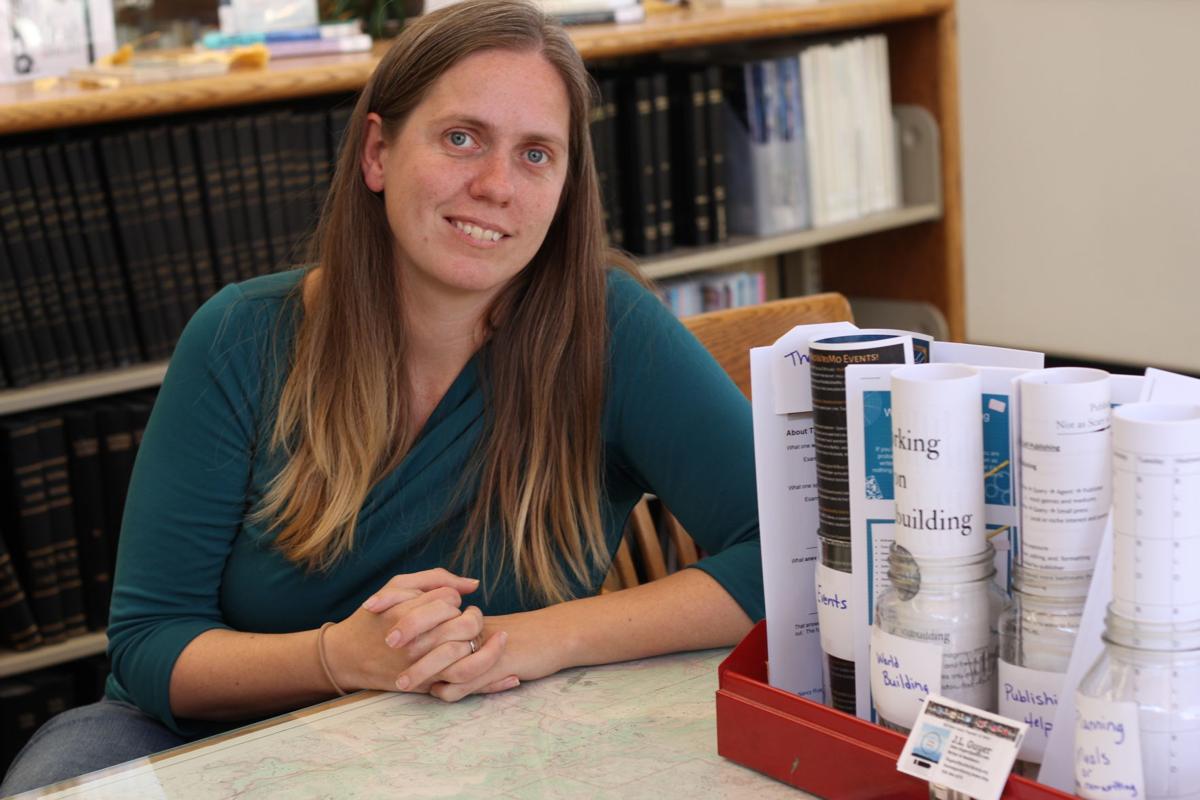 This was a fun day. I started my day at home but my internet wasn't working and I was very distracted so I went to the library even though it didn't open until 10 am. I was meeting a reporter from the AZ Daily Sun there when it opened. So, I just sat out front and amazingly was able to write a few words while I waited. The library opened and I had a lovely interview. MacKenzie Chase was great. She made it so easy to talk with her. After the interview I stayed at the library and wrote. I wrote at the Writers Who Lunch and in my semi-office. Fridays are also a half day for my husband so when he got off work we went on a date. Then it was back to the library for the rest of the day. I think I was there until 6:30 pm! Ryan offered to pick the kids up from school so, I could stay and write 🙂 I think I did a few more word sprints with my long distance friends that night after the kids went to bed.
Day 9: 5,828 words
Saturday was awesome, to say the least. I woke up super early and went to Starbucks, wrote for 2 hours, went home got ready for the day and met a friend at another coffee shop, wrote some more, changed locations, wrote some more, changed locations, and wrote some more and then we changed locations again and wrote even more! It was glorious!
Day 10: zero words
Sundays are my day off from writing 🙂 But for some reason, I tend to get a lot of epiphanies on this day.
Day 11: 2,778 words
Monday was Veteran's Day and the boys were home all day. While they played, I alternated between writing for 25 min. and working for 5-10 min. around the house. A friend came over and it was just a good day. I tend to listen to epic soundtracks when I'm at home. Oh, and I had a flute lesson after dinner and stayed out to get a few more words in.
Day 12: 4,685 words
Tuesday I dropped the kids at school and went to a coffee shop and the the library. I had a meeting at the school so I ended my day a little early, but in between the meeting and the end of school, I sat in my car and wrote a few more words. I don't remember going anywhere after dinner but I must have written more to get that many words.
Day 13: 3,403 words
Wednesdays are my critique group days. We met at a coffee shop wrote, went to lunch and wrote some more. It was great.
Day 14: 3,478 words
Thursday, yesterday, was a struggle to get those words written. I wrote at home, but was really distracted. I went to the library, and discovered I forgot about one of my characters in book 2 that should have been plotted into this book and he was just rotting away in a dungeon. I came home and wrote some more but then I was late to pick up my son from school and the rest of the day was trying to help him get his homework done. But I wrote some more after the kids were in bed and the words started to flow better.
Total for week two: 44,922!
Now that you know all about how NaNoWriMo is going this year for me, I want to know all about YOUR NaNo or YOUR goals this month! Talk to me.